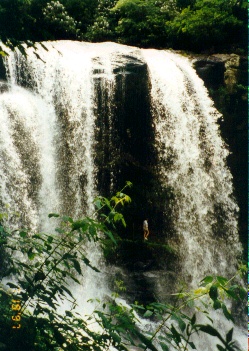 Pisgah Forest, North Carolina
I live in a small town called Pisgah Forest,, North Carolina, USA (about 30 miles from a much larger town called Asheville).
If you look at a map of the USA, North Carolina is SouthEast and I live in Western North Carolina in the Mountains!! In fact I live right on top of a mountain...1.2 miles almost straight up.
The mountains are absolutely beautiful and Pisgah Forest is known as The Land of Waterfalls. It is the home of
The Pisgah National Forest.
Here is another link to the beautiful Waterfalls of Pisgah Forest. I'm not far from The Blue Ridge Parkway.
Please sign my Guestbook








Backgrounds & Graphics by prissy
MissPrissy © 1997 "All Rights Reserved"